Lightning-fast, highly-reliable
push notification delivery
Improve the delivery rate and speed of your push notifications
Count on us to deliver your mission-critical notifications
Highly-Reliable
A dedicated MQTT connection on Android ensures
push notification delivery in critical situations
Blazing-fast
Background socket connection on Android means
we can deliver notifications up to 2x times faster
Budget-friendly
A simple and transparent pricing model,
applicable to both startups and enterprise
Encrypted
Industry-standard HTTPS encryption
to secure sensitive push notifications
Developer-Friendly
Built with developers in mind to make
implementation and migration extremely easy
Scalable
Our backend servers will automatically
scale to support your growing user base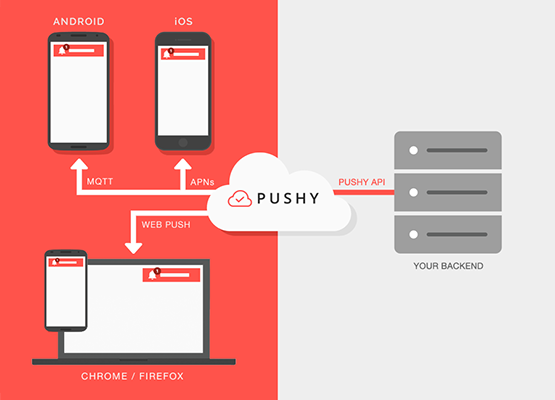 Why we're different
On Android, we utilize a lightweight, battery-efficient protocol called MQTT to deliver your push notifications, without relying on other gateways.
On iOS, we route notifications through the reliable, built-in Apple Push Notification Service gateway.
We're also perfect for delivering notifications to AOSP devices and users located in China, where Google services are unavailable or unreliable.
Try It For Free
A few of our customers
We deliver mission-critical push notifications to more than 2,000 Android and iOS apps
Try the demo app
Witness the speed and reliability of our platform without writing a single line of code.
Get the Demo App